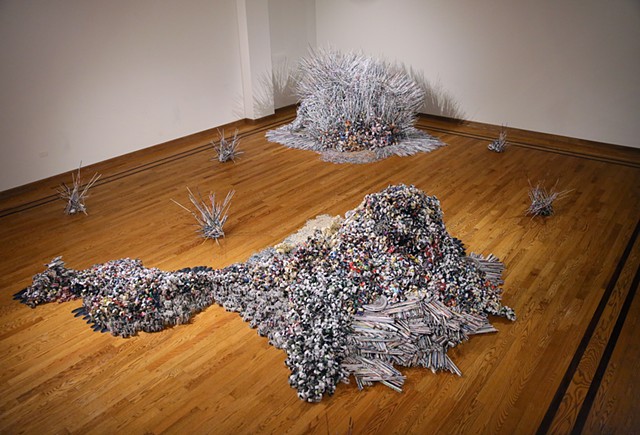 Where Do We Go From Here?
Magazine pages, political leaflets, exhibition postcards, menus, junk mail, advertisements and audio supercut of 57 songs (listed on project main page)
2018
Where Do We Go From Here?
An improvised installation
March 29 - April 20, 2018
Robert F. DeCaprio Art Gallery
Where Do We Go From Here? is a site for the contemplation of the confusion and frustration of not knowing how to proceed, both individually and collectively. The sensation of chaos and the presence of doubt is often a part of moving forward. Change—personal, political, physical and spiritual—is glacially slow. Even those sudden events that appear to have come out of nowhere are actually the result of the accumulation of much smaller changes. The process of intentional change is a repeated, relentless reorientation from each new moment. Where do we go from here? And from here? And from here?
In my studio, I slowly transform glossy magazines, advertisements, catalogs, political flyers and leftover exhibition postcards by hand. Through the repeated processes of cutting, folding, winding, twisting and curling, I subvert their intentions to entice consumers, voters and viewers. After distilling these mass media messages into repetitive sculptural objects, I embrace not-knowing where I am going by improvising their installation in the gallery.
The looming question, culled from songs in a variety of music genres, repeats over and over in a never-ending loop that emanates from the surrounding excess of print media. This repetition of the question Where Do We Go From Here? might render it meaningless. Or perhaps it might remind us that we are not alone in our doubt, frustration and anguish about the future. While the We and the Here is not the same for every human, I suggest that the question itself might be a fundamental part of the human condition.
Remixed song lyrics from:
Where Do We Go From Here? (Charles Bradley)
Where Do We Go From Here? (Alicia Keys)
Where Do We Go From Here? (Buffy the Vampire Slayer)
Where Do We Go From Here? (Brian McKnight)
Where Do We Go From Here? (Jamiroquai)
Where Do We Go From Here? (Deborah Cox)
Where Do We Go From Here? (Tweet)
Where Do We Go From Here? (Vanessa Williams)
Where Do We Go From Here? (Stacy Lattisaw)
Where Do We Go From Here? (Razah featuring Rihanna)
Where Do We Go From Here? (Chris Rea)
Where Do We Go From Here? (Death)
Where Do We Go From Here? (S.O.)
Where Do We Go From Here? (Filter)
Where Do We Go From Here? (Chicago)
Where Do We Go From Here? (The Band)
Where Do We Go From Here? (Badfinger)
Where Do We Go From Here? (Pillar)
Where Do We Go From Here? (The Partridge Family)
Where Do We Go From Here? (Bobby Womack)
Where Do We Go From Here? (Emmanuel Ramos)
Where Do We Go From Here? (Olivia)
Where Do We Go From Here? (Haley Westenra)
Where Do We Go From Here? (Pocahontas)
Where Do We Go From Here? (Ruelle)
Where Do We Go From Here? (New Kids on the Block)
Where Do We Go From Here? (G Soul)
Where Do We Go From Here? (The Enchantments)
Where Do We Go From Here? (S.O.)
Where Do We Go From Here? (David Mark Bulley)
Where Do We Go From Here? (Earth, Wind and Fire)
Where Do We Go From Here? (Bobby Womack)
Where Do We Go From Here? (TheTemper Trap)
Where Do We Go From Here? (Nish)
Where Do We Go From Here? (The Trammps)
Where Do We Go From Here? (Incognito)
Where Do We Go From Here? (Kasinova Tha Don)
Where Do We Go From Here? (Andrew Simple)
Where Do We Go From Here? (Al Bairre)
Where Do We Go From Here? (Amber Run)
Where Do We Go (From Here) (Atozzio)
Where Do We Go From Here? (Cornell C.C. Carter)
Where Do We Go From Here? (Jevetta Steele)
Where Do We Go From Here? (Fiction Plane)
Where Do We Go From Here? (Josh Kumra)
Where Do We Go From Here? (Svenstrup Vendelboe Featuring Christpher)
Where Do We Go From Here? (White Door)
Where Do We Go? (Lion Babe)
Where Do We Go? (Sandrine)
Where Do We Go? (C-Murder)
Where Do I Go From Here? (Don Williams)
Where Do I Go From Here? (Barry Manilow)
Where Do I Go From Here? (The Carpenters)
Where Do I Go? (Sebastian Mego)
Where Can We Go From Here? (Brian Littrell)
Where Will We Go From Here? (Hardline)
Yesterday was Hard on All of Us (Fink)
Sleepwalking (Gerry Rafferty)
Nothing Like the Rain (2 Unlimited)
Without You (Dixie Chicks)
Survival (America)
Who's Loving My Baby? (Shola Ama) Remixed song lyrics from: