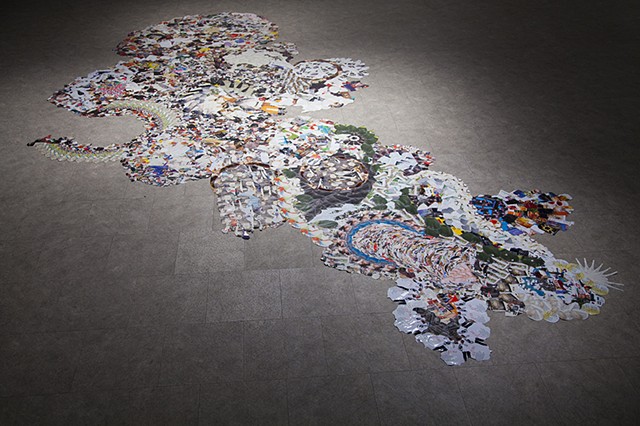 You Can't Always Get What You Want #2
Upside-down collages from "Solace Studies"
Installation variable, here: 18' 9" x 11' 5"
2013
Assistant Professor of English and Managing Editor of Eclipse Literary Journal Alexander Weinstein created an assignment for his class, in which each person wrote a piece in response to one of the works in the show. It was a pleasure and an honor to hear the pieces read out loud at the closing reception. Below is Alexander's own piece, which is composed entirely of found text from my piece.
"These Stats To Which All Of Us Cling"
1.
My dream?
To be as pretty as pretending mommy:
sophisticated, gorgeous, easy to love.
Experts recommend
introducing every girl by outfit
Black folks usually buy regardless.
Trevon Martin?
The fashion industry seems unaware of these figures
If you don't like it, talk to a designer.
2.
Zimmerman is now a customer.
He may want to go into a store.
He may want to love the way
this dress feels.
Sexy but also super comfortable;
the fuzzy skin of other
3.
Experts recommend
finding a dermatologist near you.
Walk away with a suitcase full of cash!
For a limited time only
Rush Limbaugh will work for the rich.
We're ready for your credit cards!
Trevon Martin
was $199.95 now only $169.95.
Experts recommend
the rich minus Trevon Martin.
Hot arrivals, quick and easy, call toll free
and give up.
-Alexander Weinstein